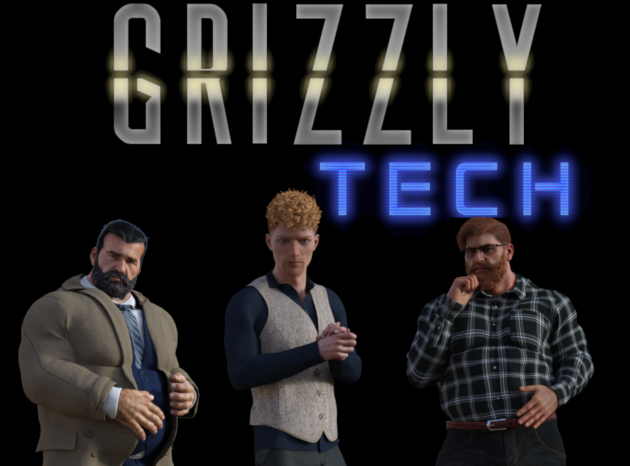 Grizzly Tech
Grizzly Tech 1.30 Update!
---
Well, it's finally here. Chapter 10 is finally completed.
Mostly, I wanted to finish the route variations more completely, before moving onto the next chapter. There's also a bad ending in this chapter if you aren't careful. For this reason, I strongly suggest maybe replaying, and saving at every 'chapter' for the moment. That way you can just reload from the beginning of the previous chapter, so you don't have to wade through all of the story so far.
CHangeLog:
Completed Chapter 10
First NSFW scene with Brent with some 'slightly' inaccurate side images on Brent's dialogue - he technically should be 'nude', but I didn't have any yet.
That's about it for now, and I nudged my 3D Modeler friend to help me revamp Brent - due to his computer having problems, and losing a bunch of 3D Assets. Thank you @Deevilj!! I appreciate you a ton for doing this for me.
Uh, what else? Oh, the revamped sprites and side images for Brent should be in the game by the time the next update rolls by. I'm prepping them atm, to be able to be used.
Enjoy the update, I hope!
-GH
Files
GrizzlyTech-1.30-pc.zip
72 MB
Apr 10, 2022
GrizzlyTech-1.30-mac.zip
37 MB
Apr 10, 2022
GrizzlyTech-1.30-android.apk
53 MB
Apr 10, 2022
Comments
Log in with itch.io to leave a comment.
Finally yay I missed this game thank you for posting
Download 1.31 if you can. I fixed a game breaking bug just now, lol. Sorry!
Lol I was going to comment about the bug but then I saw this 🤣 thank you for the update sir
when you press start butten after a few sentences it Crashes.
Which version - PC, Mac, Android?
Check out 1.31 now - the bug should be fixed now. :D